Let me get this out of the way: my poor, poor friend has terrible luck on Match.com.
That said, I bring you one of her newest unsuitable suitors.
Meet BirdmanBill.
Nature Lover out to See the Wonders of the Earth.
---
35-year-old man
Brewster, New York, United States
seeking women 18-40
within 50 miles of Brewster, New York
| | |
| --- | --- |
| Relationships: | Never Married |
| Have kids: | None |
| Want kids: | Not sure |
| Ethnicity: | White / Caucasian |
| Body type: | A few extra pounds |
| Height: | 5'11" (180.3cms) |
| Religion: | Christian / Catholic |
| Smoke: | No Way |
| Drink: | I don't drink alcohol |
---
About me and what I'm looking for
I am a fun-loving guy who loves being outside in the fresh air. I love anything that deals with being outside like hiking and nature watching.I am a avid bird watcher and like to travel the world looking for birds. The same can be said for butterflies as well. I am also a great photographer and enjoy taking photos.Im a willing and patient teacher and willing to take people out to learn about nature . I like quiet times to talk as well. I allways have a postive attitude and am a friendly thoughtfull guy who likes to talk about anything. I like someone who shares alot with me and is honest especally on their feelings. Honesty is a plus. You have to be patient and understanding.I hope somebody takes a chance on me and says hello. You will never regret it. I enjoy other things in life besides nature .I am open and willing to try new things. Just need a good partner in crime That why I joined match.com. Someone to talk to and maybe meet and have fun and excitment with.
---
About my life
Hair:
Dark blonde
Eyes:
Blue
Best feature:
Eyes
Body art:
None
Sports and exercise:
Walking / Hiking,
Other types of exercise
Exercise habits:
Never
Daily diet:
Meat and potatoes,
Keep it healthy
Interests:
Hobbies and crafts,
Museums and art,
Music and concerts,
Political interests,
Travel/Sightseeing,
Volunteering,
Watching sports,
Dining out
Education:
Bachelors degree
Occupation:
Teacher / Professor
Income:
Less Than $25,000
Languages:
English
Politics:
Middle of the Road
Sign:
Aquarius
My place:
Live with parents/extended family
Pets I have:
No Answer
Pets I like:
Dogs,
Horses,
Cats
---
About my date
Hair:
Any
Eyes:
Any
Height:
5' 6" (168.0 cms) to
6' 4" (193.0 cms)
Body type:
A few extra pounds,
About average,
Athletic and toned,
Curvy,
Slender
Languages:
Any
Ethnicity:
Any
Faith:
Any
Education:
Graduate degree,
PhD / Post Doctoral,
Bachelors degree
Job:
Teacher / Professor
Income:
$25,001 to $35,000: $35,001 to $50,000: $50,001 to $75,000: $75,001 to $100,000
Smoke:
No Way
Drink:
I don't drink alcohol,
Social drinker, maybe one or two
Relationships:
Never Married
Have kids:
None
Want kids:
Someday
Turn-ons:
Candlelight,
Dancing,
Public displays of affection,
Thrills,
Thunderstorms,
Flirting
Turn-offs:
Body piercings,
Power,
Tattoos
Wow, he sounds like a great guy, doesn't he?
Here's a series of emails from this sexy hunk of a man, to my friend, regarding a few of her Match.com pictures.
Everyone knows girls go wild with lust when ugly, illiterate men insult their interests and best friends!
Two of the pictures are of her with Dave Gahan of Depeche Mode. Another is of her with her best friend, who is a male. The rest are all pictures of her alone. Her reply:
His further replies:
Does he look like a cannibal or is it just me?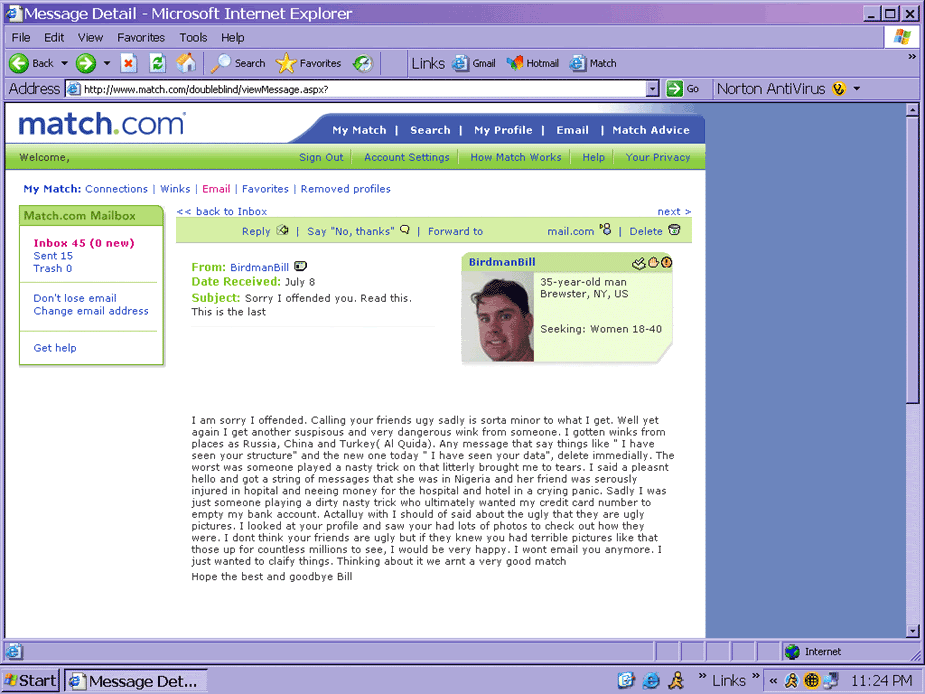 I couldn't help myself. I constructed an email meant to scare him while mocking him at the same time. If he could fall, even just for a second, for a scam on Match.com -- and everyone has seen how badly written and obvious these are -- I hope my email makes him stay up at night, terrified, rocking back and forth, crying softly to himself in his mommy's basement.
Also, note the Google ads on the side of the last email. They nearly made me spew my drink all over my monitor.
Surely she isn't the only one who gets inundated with fools like this? What the hell?!
Current Mood:

devious